That best describes the trade this week!
Last weekend I described the trade as, "ridiculous as ever, which seems to have become the new normal."
On Tues. I blogged on the Boring Market in Dull Markets Continue
At least I've been consistent and right all along, but trading has been as excruciating, as I can ever remember.
Sure, we're seeing a little whipsawing action here and there, but by the looks of it, we're going to close about UNCH (unchanged) for the week.
Yesterday, we finally got a little rebalancing, and I can hardly even believe I got that call right!
We could see a rebalancing ahead of tomorrows Options expiration. The bulls didn't pay their insurance money. $VIX

— Veteran Market Timer (@3Xtraders) April 20, 2023
That's right, after a week of trading in a range, I called for a correction, back to the extreme lower end of that range, and we finally saw stocks end deep in the red.
Of course nobody else saw this coming, or there would have been at least 1 like on the tweet. Sense my frustration?
I actually saw the sell-off coming, around 2PM CST in real time
$SOX finally back-filled the gap that was left behind on Tuesday.

— Veteran Market Timer (@3Xtraders) April 20, 2023
I suppose most traders would be thrilled to be right so many times in a row, but I like to trade leveraged ETFs, and I'm not usually jumping in and out of trades intraday, as a "pattern day trader".
At some point in the near future I see myself being upgraded by my broker to that status, but I'm not in any hurry to be labeled as such. If you're unfamiliar with what I'm talking about, here's an explanation
As I was saying I mainly trade leveraged ETF's, and these funds bleed value when you hold onto them in a flat market, and if you find yourself in a flat market, at some point you have to fish, or cut bait. This is why I recommended traders sit on their hands, until the $VIX starts breaking out.
This constant bleed in leveraged ETF's also explains why the moving averages aren't very accurate, but that doesn't stop traders from actively trading those levels.
Yesterday
, we did see the $VIX finally move, but it was quickly sold as usual.
I used the opportunity to take some money off the table, which is very frustrating, but the situation is what it is. At some point you have to have the discipline to do what is required, in order to trade another day.
$VIX
If the $VIX breaks out above 18, then I may be forced to chase the downside, and there is a good possibility that the only thing that is holding this market up is Options Expiration - as we saw just ahead of the covid crash. That crash wasn't allowed to take place, until the following Monday.
The Elephant In The Room
The Elephant in the room is OPEX, and I was shocked to see Bloomberg report on it this morning!
Wary Stock Traders Eye Options Deadline for End to Eerie Calm as

S&P 500 heads for smallest monthly trading range since 2017$SPX #Stocks @BloombergTVhttps://t.co/vrVyi8QMKA

— Veteran Market Timer (@3Xtraders) April 21, 2023
I watched the TV coverage, and the news girl joked that this was probably a first... as she explained that the market hasn't been pinned like this for a very long time, and then she went on to talk about how money managers were basically being forced to buy (options) protection, which made no sense.
Look, if MM's were buying protection, the $VIX would be up, and the market would be more likely to close up on OPEX. Even so, I think there's a good chance the $SPX finally closes above the 4100 level, this time.
Then Bloomberg cut away to what can only be described as a NY City sunrise (climate engineering) psyop:
Red skies are caused by particulate matter, high in the atmosphere, and that's why red sun rises, and
sunsets,
have become the new normal. I've been documenting this effect for over a decade now.
I sure do miss the beautiful sunrises we used to see, before climate engineering.
The powers that be, only claim to be looking into climate engineering, as a way to cool the planet, because in fact, they've already been at this for a very long time.
This is the number 1 threat to humanity, second only to nuclear annihilation, and it's being hidden in plain sight.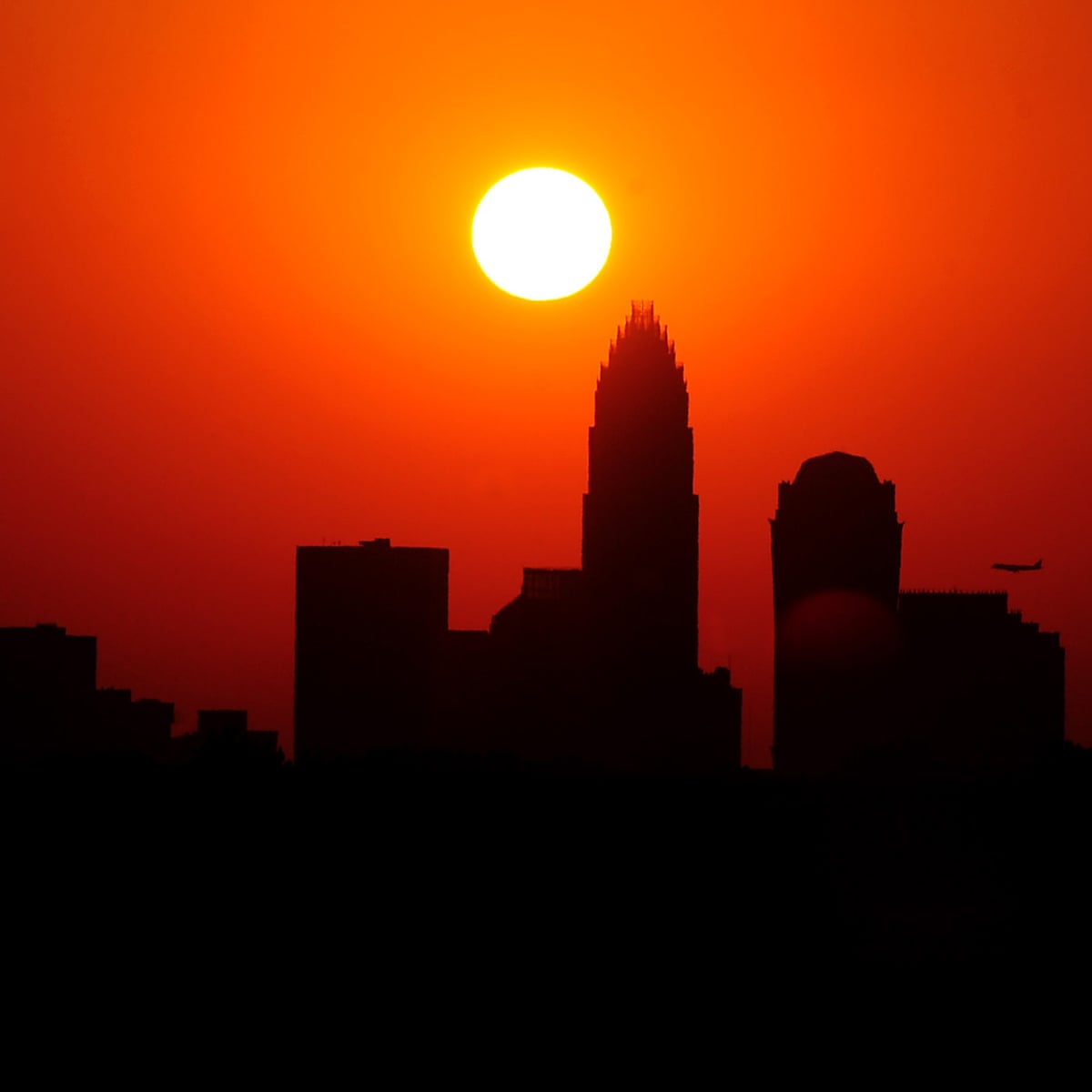 Related Documentary Exposes The Truth About Climate Engineering:
Take Care, AA